The Special Supplemental Nutrition Program for Women, Infants and Children (WIC), is a federally funded program which provides American Samoa residents with nourishing supplemental foods, nutrition education, breastfeeding promotion and health and social service referrals. The participants of WIC are either pregnant, breastfeeding, or postpartum women, infants or children under age five who meet income guidelines and have a medical or nutritional risk.
Alerts for American Samoa
Notices:   Letter from USDA WIC State Director on Zika virus Click Here for PDF version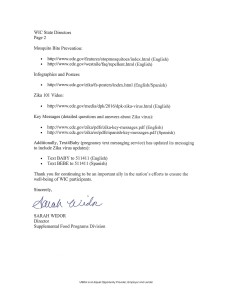 Free check-ups: Department of Health is offering free check-up at their pre-natal clinics for pregnant women!
Visit by USDA: Mr. Jesus Mendoza, Western Region (WR) Administrator for the Food and Nutrition Service (FNS) under the U.S. Department of Agriculture visited the Department of Human and Social Services this week to check on the operations of the American Samoa Nutrition Assistance Program (ASNAP) and the American Samoa WIC Program.  FNS is the Federal funder for both programs that serves over 10,000 low income seniors, people with disabilities as well as women, infants and children 5 years of age and below.  He was accompanied by Mr. Dennis Stewart, WR SNAP Director; Ms. Becky Hobbs, WR Financial Management Director and Ms. Marisa Cheung, WR Community Nutrition Programs Branch Chief.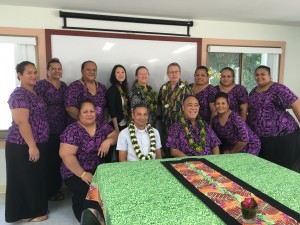 ZIKA Virus: Pregnant? Zika is linked to birth defects. Protect yourself and your baby. Get FREE prenatal services at American Samoa Department of Health Clinics. Amouli Clinic, Leone Clinic and Tafuna Clinic offers FREE prenatal care & lab services to pregnant women during their entire pregnancy. For more information call the DOH Hotline: 731-7511. Help stop the spread of Zika by following these four steps: Cover up and use EPA-registered insect repellent, remove standing water, keep mosquitoes out of your home, and use condoms to help prevent the spread of Zika virus. Keep yourself, your family, and your community safe and healthy. Learn more about prevention: 1.usa.gov/1OA68YO
Men: If you develop symptoms of Zika, you should see your healthcare provider to see if you have Zika virus or another illness. Learn more about symptoms, diagnosis & treatment: 1.usa.gov/1Wytb9g Zika virus can be passed from a mother to her baby during pregnancy. Men living in areas with Zika can prevent possible infections of pregnant partners by either not having sex or by using a condom the right way, every time. Learn more about transmission: 1.usa.gov/1RBYmkP Worried about Zika? Do your part to protect yourself, your family, and your community from Zika. Empty containers that can hold water like buckets, tires, plastic and metal drums, unused boats, tin cans, flower pots or unused appliances.  Learn more on preventing Zika: http://1.usa.gov/1L7OYns
Recruitment Outreach Campaign: Weekly at LBJ Pediatric Clinic
Breastfeeding Promotion Campaign: Monday to Friday at LBJ Maternity Ward
Saturday Clinic: March 25, 2017 at Utulei from 8 am – 1 pm